Nobuichi Otake: One Of The Excellent Aizu lacquerware's Makie Master In Japan
Here we would like to introduce one of the most skillful Makie Master in Japan. His name is Nobuichi Otake, known as a Makie master of Aizu lacquerware. He respects the traditional Japanese craftworks, but also tries to creates new style of Aizu lacquerware.
Aizu Lacquerware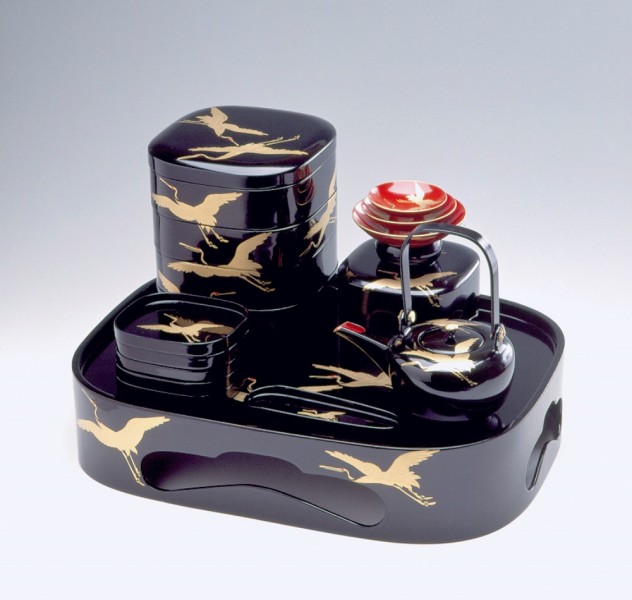 It has been produced since the second half of the 16th century, its history is old and certified as traditional Japanese craft.
The Aizu domain, which focused on the development of the lacquer industry, fought with the new government at the time of the Meiji Restoration, but was defeated and the domain was dismantled. This battle became a major turning point in the modern history of Japan.
As a result, the industry of Aizu lacquerware also fell drastically with a great blow. However, in the middle of the Meiji era again, it revived as one of the leading lacquerware production areas throughout the country.
As characteristic of Makie and Lacquer painting of Aizu lacquerware,
"Shumigaki"
It is a painted design with lacquer on a black paint, painted vermillion powder and polished just before drying completely.
There is a unique gloss and taste.
"Aizue"
It is a traditional design of Aizu lacquerware which combines Higaki(Patterns of alternating woven hinoki sheets), Shochikubai(Pine, bamboo, and plum), and Hamaya(Demon killer arrows) with a modest color.
"Nishikie"
The picture which arranged Peony · Phoenix · Shochikubai · Crane and Tortoise is mainly drawn.

Nowadays, traditional techniques are inherited and further honed.
Noubuichi Otake
Nobuichi Otake uses the luxury of color lacquer and the luxury of makie, making works that match the current era.

His picture is something humorous. Through his paintings and patterns, he continues to make such a work that makes a purchaser have pleasure and has fun using it.
Works
Despite being a heavy traditional crafting work backed by solid technical power, his unique style of painting soften the hearts of people who use lacquerware.

This Nature stone paperweight, which is a genuine Aizu lacquerware made by Makie master Nobuichi Otake's hand work, made by "Yura Yura kobo".
He takes advantage of the natural stone's shape and draws a different makie art one by one.